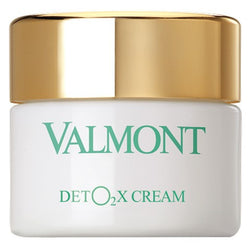 Deto2x Detox Cream 1.5 oz
SKU: 7612017058160
$ 300.00
Valmont Deto2x Cream Provides pure oxygen to the cells, eliminates carbon dioxide and boosts cells' turn over.
DETO2X Cream offers the skin a true breath of fresh air ! Each day, the cream captures oxygen in the atmosphere and infuses it into the skin. That is why the cream features a foamy / whipped cream texture that is recreated each and every day.
A unique "whipped cream" texture
An "Inflated mattress" effect for a plumped and smooth skin texture
-Cleansing against particle pollution
-Complexion is less dull, greyish
DETO2X CREAM
Oxygenating and detoxifying cream
O2 Complex: 
Brings O2 to the cells and evacuate excess CO2
Stem cells from Swiss apple:
Boost cells' renewal
Triple DNA:
Stimulates the skin's vital functions
For a complete oxygenating regimen:
Morning: Prime B.Cellular + Deto2x Cream
Evening: Prime B.Cellular + Prime Regenera I
Every morning after applying a serum, skim off the foam at the surface of the cream. For optimal effectiveness and to maximize skin oxygenation : – Do not heat the cream in your hands. – Skim off the foam, apply four dabs of cream on the face and rub in using light effleurage gestures. – If possible, skim off and apply the cream using a brush. For a complete oxygenating program, apply Prime Regenera I at night.