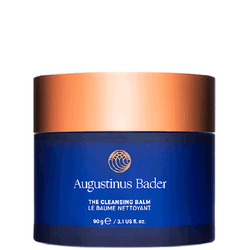 The Cleansing Balm
SKU: 5060552900420
$ 77.00
With TFC8® The Cleansing Balm melts across the skin to easily rinse away impurities and makeup, leaving no residue. Provides a thorough yet ultra-gentle cleanse for a radiant, refreshed complexion.
Dissolves and removes the daily build-up of dirt, oil, environmental impurities and stubborn makeup.
Tones, purifies and decongests the skin for a clear, refined complexion.
Nourishes and hydrates for soothed, smooth skin that is glowing with health.
Conditions and satiates the skin without stripping or disrupting its pH.
TFC8® supports cellular renewal and guides key nutrients to the cells.
Comes with 'The Cloth' (100% cotton muslin) to enhance The Cleansing Balm's efficacy and gently exfoliate the skin for an exceptionally sensorial experience.
Non-pore-clogging, fragrance free, and suitable for all skin types. Formulated without irritants or allergens. Vegan and clean.
How to use
Use fingertips to massage balm over dry skin. Add water to emulsify. Rinse well with warm water using The Cloth to remove. Pat dry. Follow by applying your Augustinus Bader. 

Ingredients
TFC8®: A complex of natural amino acids, high-grade vitamins and synthesized molecules naturally found in skin, which guides key nutrients and powerful natural ingredients to the skin cells, creating an optimal environment for the body's innate processes of repair and renewal.
Avocado-Olive Fruit Oil Complex: A multifunctional plant complex. Stimulates skin's natural defenses, minimizing the effects of external aggressors and helping to prevent signs of premature aging.
Vitamin E: A powerful, restorative skin conditioner. Effectively supports barrier function to optimize hydration levels while protecting the complexion from environmental aggressors.
Squalane: A clean, plant-derived humectant. This intensely hydrating oil effectively attracts and retains moisture for supple, radiant skin with greater bounceback.
Formulated for all skin types. Formulated without irritants or allergens. Vegan.
Helianthus Annuus (Sunflower) Seed Oil, Cocos Nucifera (Coconut) Oil, Polyglyceryl-4 Oleate, Vitis Vinifera (Grape) Seed Oil, Helianthus Annuus (Sunflower) Seed Wax, Persea Gratissima (Avocado) Oil, Squalane, C10-18Triglycerides, Phytosterols, Bisabolol, Hydrogenated Vegetable Oil, Olea Europaea (Olive) Fruit Oil, Glyceryl Stearate, Sorbitan Oleate, Tocopherol, Ascorbyl Palmitate, Tocopheryl Acetate, Glycerin, Water/ Aqua, Lecithin (Soybean), Pentylene Glycol, Hydrolyzed Rice Protein, Opuntia Ficus-Indica Stem Extract, Caprylic/Capric Triglyceride, Xanthan Gum, Butylene Glycol, Arginine, Phenylalanine, Glycine, Lysine, Sisymbrium Irio Seed Oil, Potassium Sorbate, Sodium Hydroxide, Oligopeptide-4, Oligopeptide-177.