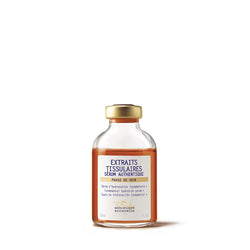 Biologique Recherche
Serum Extraits Tissulaires
SKU: 3700693208369
Biologique Recherche Serum Extraits Tissulaires is a moisturizing and revitalizing bio-serum soothes stressed skin and prepares it for more intensive treatment. It is recommended for all skin types, even reactive skin and/or seborrheic skin, and is ideal for young skin.
Size: 4.2 oz / 125 ml
How to use
After P50 on cleaned skin.
Ingredients
Water (Aqua), Propylene Glycol, Embryo Extract, Phenoxyethanol, Ethylhexylglycerin
Vicki's Tip
If you have Serum Amniotique, look for a different one. They target hydration so makes no sense to have two serums that do the same thing.