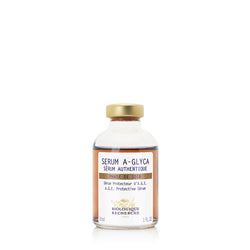 Biologique Recherche
Serum A-Glyca A.G.E
SKU: 3700693206822
A-Glyca is an innovative serum that targets glycation and combats skin aging. Glycation is the binding process of sugar to a protein or a lipid, and it is one of the key factors in skin aging that affects collagen and elasticity of the skin. This formula rich in anti-glycation and deglycation active ingredients (mimosa and carcinine) protects proteins within the skin's structure, reduces deep lines and wrinkles, reduces signs of tiredness on the face, improves skin's firmness, and brings radiance to the complexion.
How to use
Take a few drops of the Serum A-Glyca and apply after Lotion P50. Ideal to be used both morning and night over the entire face, neck and chest.
Ingredients
Anti-glycation ingredient (preventive): Mimosa extract (Albizia)
Deglycation ingredient (curative) : Carcinine
Vicki's tip
I like to combine Biologique Recherche Serum A-Glyca with Serum Elastine Pure and Serum Amniotique E. This trio creates a bullet proof skin care targeting aging.