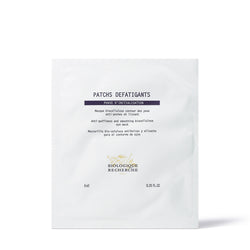 Biologique Recherche
Patchs Defatigant Eye Mask
SKU: 3700693207546
Patchs Defatigant Eye Mask is a pre soaked sheet mask that helps reduce eye puffiness, wrinkles and dark circles. Biologique Recherche has developed this innovative eye mask to treat the signs of fatigue and aging in the eye contour area. Patches Defatigants combines an ideal bio-cellulose eye mask with a tailored shape infused with specifically chosen highly active ingredients suited to the thin and fragile eye contour area.
How to use
Apply the pre-soaked eye patches by placing the widest part on the bottom of the eyes and the thinnest part on top. Press gently with your fingers so that it perfectly attaches to the skin. Leave on for 15 minutes. Massage any leftover product.
Ingredients
Anti-puffiness agents: Caffeine, Anti-puffiness dipeptide
Anti-wrinkles agents: Silk Tree Extract, Cassava Extract, Polysaccharides rich in fucose
Anti-dehydration lines agents: Hyaluronic Acid
Anti-dark circles agents: Complex of Matrikines and Flavonoid
Vicki's tip
Apply Serum Oligo Proteines Marines to the eye area prior to applying the Patchs Defatigant Eye Mask. This will brighten up dark circles.