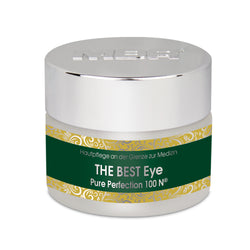 The Best Eye 1oz
SKU: 4038421014449
$ 1,432.00
First-class eye lifting
Extraordinarily potent, targeted skincare cream for the complete eye area that even absorbs to the deeper skin layers and gives it a special radiance. The exclusive MBR® FibroBoost Complex, which was developed especially for MBR® and contains the patented Capsules™ technology, in combination with supplementing, highly-efficient active ingredients, slows down the ageing process of the skin and reduces wrinkles and expression lines.
• Revitalises the activity of the fibroblasts to increase the collagen
• and elastin production of the skin
• Reduces lines, little wrinkles and expression lines around the
• eyes
• Refines the structure of the skin
• Prevents the delicate eye area from drying out
• Protects the skin from harmful environmental influences with an
• invisible protective layer
Directions
Mornings and evenings. After application of the active serum to the area around the eyes, gently pat with fingertips.
Note
Designed to deliver absolute skin conditioning, THE BEST Eye simultaneously provide effective preparation for plastic surgery and active support after the procedure – OR simply use them as the uncontested best alternative!
Ingredients
MBR® FibroBoost Complex, MBR® SmoothM8, Beautifeye™, Thalassine 2G, Ectoin, Hyaluronic acid, Inositol, Betaina, Rosmarinyl Glucosides, Berry wax, Shea butter, unsaponifiables of Shea butter, Panthenol