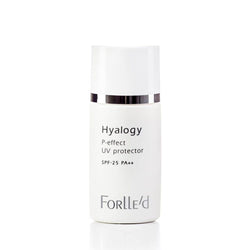 Hyalogy UV protector
$ 71.00
Mineral based sunscreen
This highly effective sunscreen provides strong mineral protection against both UVA and UVB rays, and helps skin recover from UV exposure and negative environmental impacts.
This formula contains non-toxic physical reflectors that have excellent anti-inflammatory properties, skin lightening effects that help prevent the formation of 'sun pigmentation' and improve microcirculation and even skin color. This sunscreen does not cause comedone formation. It can be used at any age and by all skin types, including very sensitive, young skin and is highly recommended after chemical peeling procedures as UV protector. Good for all skin types
Ingredients
Hyaluronic acid, squalene, pearl protein, zinc oxide, titanium dioxide, Moringa and Ceramide-3.
How to use
Apply small amount to face, neck and chest.