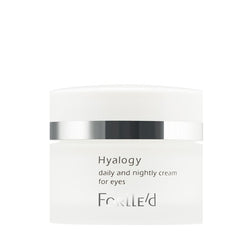 Hyalogy Daily and Nightly Cream for Eyes
SKU: 4580187421134
$ 142.00
Hyalogy Daily & Nightly Cream for Eyes
Unique eye cream based on a patented high-technology complex with a squalane-ceramide base that perfectly recreates the soft, nourishing structure of the skin lipids. Ideal for nourishing and moisturizing skin around the eyes and helping correct unsightly blemishes.
The key ingredients are low-molecular hylauronic acid, hydrolyzed egg-sell membrane and hydrolyzed pearl proteins. The combination has a powerful rejuvenating effect, providing deep moisturizing which helps the skin recover its structure. Saxifraga extract in combination with α-Arbutin improves microcirculation and normalizes skin pigmentation.
The cream also contains extract of Japanese Swertia that stimulates hair follicles. This has the additional benefit of boosting eyelash growth, making them longer and thicker.