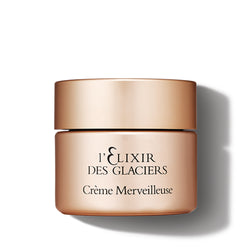 Elixir Creme Merveilleuse
SKU: 7612017903026
$ 1,100.00
This luscious cream reveals an unprecedented sublime complexion. Its regenerative capabilities use sturgeon DNA and marine minerals to seal youth into the heart of the skin.
Fine, sensual, and generous, this cream enhances the skin's texture and boosts its radiance. 
The blend of anti-aging sturgeon DNA and 3 minerals unveils an unedited glow, smooths, plumps and unifies the skin's texture. 
Once regenerated, the skin glows with natural light. 
Suitable for all skin types, particularly those lacking radiance.
This incredible l'Elixir des Glaciers cream uses sturgeon DNA and a cocktail of illuminating minerals for the best in anti-aging technology, exclusive to Valmont. 
Sturgeon DNA: 3 ultimate anti-aging benefits
. Restores elasticity
. Reinforces the skin's density
. Continuously dispenses benefits
Marvelous mineral complex: easily digested by the skin, magnesium, manganese and selenium help awaken radiance
Morning and evening
Apply by lightly massaging product onto entire face and neck.