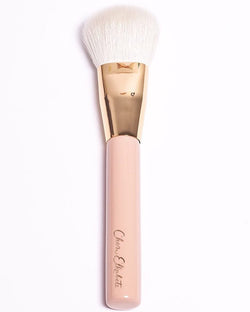 Chen Elkabetz
Luxury Makeup Brush
$ 90.00
Chen Elkabetz is a fashion and beauty makeup artist in Israel with about 15 years of experience in the industry. She is one of most the leading and influential makeup artists in Israel for the last decade. Her work is constantly presented on the cover or leading fashion magazines as well as the biggest advertising campaigns in the fashion world.
In the past two years, Chen has launched an exclusive line of makeup and beauty products. The brand is named Chen Elkabetz Luxury Makeup. The makeup products in her name are luxurious, elegant and feminine made in high end, uncompromising quality.
The Brush
The firsts product in the series that she came up with is the makeup brush. This brush is perfect for applying blush, contouring, bronzing, highlighting and simply finishing the makeup look. Each brush is packed in an elegant and prestigious box designed by Chen in the spirit of the brand, that makes it an ideal gift for every woman.
"I wanted to make the perfect brush that I always needed and couldn't find in other brands. High quality that makes the perfect finish for my makeup. I wanted something that feels luxurious and looks elegant and feminine." Each brush is handmade in the most prestigious factories in the world, which produce the largest high-end brands in the cosmetic world. The brush is made of 100% natural hair. The handle is made of high quality wood and the brush provides a perfect finish for the makeup.