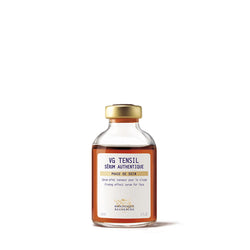 Biologique Recherche
Serum VG Tensil
SKU: 3700693201353
Biologique Recherche Sérum VG Tensil is an intensive and instant concoction to regenerate the skin's fibrous network, and boost its' cellular metabolism. This advanced formula enriched with plant extracts of rye and hazelnut oligopeptides will tense and tone the tissues supporting the skin. This powerful serum is ideal to use regularly or for special events where that extra lift is required; this serum will leave your skin looking younger and more radiant. It is recommended for dull, devitalized and/or sagging skin. 
Size: 4.2 oz / 125 ml
How to use
Deposit a few drops of Serum VG Tensil in the hollow of your hand. Penetrate into the skin by light massage over face, neck, and decollete morning and evening before moisturizer.
Ingredients
Active ingredients include: proteins from embryonic botanical cells.
Vicki's Tip
Layer Serum Matriciel over VG Tensil. The lifting effect is amazing!