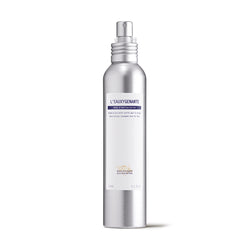 Biologique Recherche
L'Eauxygenante Mist
SKU: 3700693200578
Biologique Recherche L'Eauxygenante is an energizing face mist which helps improve the skin's ability to adapt to different climates. Helps the skin defend itself against external aggression thanks to its antioxidant properties. Energizes and helps restore the skin's natural acidity. Hydrates, soothes and refreshes the skin.
How to
Use Biologique Recherche oxygen spray at any time. Shake the bottle well before each use and spray as a mist by holding the bottle about 20 cm from your face.
Other ways to use L'Eauxygenante:
Use after the Lotion P50
Ideal to remove Lotion P50W for sensitive skin
Use after a mask to rehydrate your skin
Use before and/or after cream or as a mist over makeup to illuminate your complexion
Use throughout the day to refresh your skin instantly
Ingredients
Softening agent: Silk Extract
Energizing agents: Orange and Kiwi Extracts
Oxygenating agent: Specific BR Oxygenating Complex
Antioxidant agent: Edelweiss Extract
Vicki's tip
I recommend my clients to carry L'Eauxygenante travel size bottle everywhere they go. It is a great product to have handy and spray while on a plane, beach and anytime you need a quick refresher and hydration.