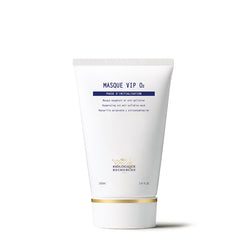 Biologique Recherche
Masque VIP O2
SKU: 3700693200875
Masque VIP O2 is an anti-pollution mask that helps eliminate pollution particles while hydrating, oxygenating and brightening the skin at the same time. Rich in Hyaluronic Acid, among other active ingredients, this face mask enhances cell regeneration and revitalizes the epidermis by making skin restore its own glow and reveal an even complexion.
How to use
Apply a thin layer of Masque VIP O2 over face, neck and chest. This mask is super safe to use on the eye area as well. Leave for 15 to 20 minutes and rinse off.
Tip: Place in the refrigerator before use for extra soothing.
Ingredients
Moisturizing agents:  Complex of Hyaluronic Acid and Rhizobium, Natural Moisturizing Sugar Complex
Oxygenating agent: BR Proprietary Oxygenating Complex
Anti-pollution agents :  Chlorella Sorokiniana microalgae,  Dandelion Fructans
Vicki's tip
Mask VIP 02 is the best mask to mix with any Biologique Recherche products to target certain skin concerns.
For under eye dark circles and smokers' skin, mix Mask VIP 02 with Serum Oligo Proteins Marines.
For dehydrated skin, mix Masque VIP 02 with Masque Visolastine +
For acne prone skin that is combination, Mix Masque VIP O2 with Masque Vivant.