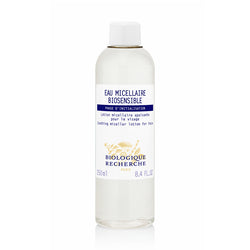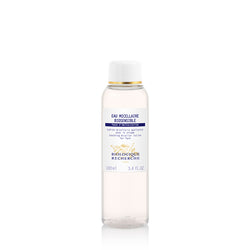 Biologique Recherche
Eau Micellaire Biosensible
SKU: 3700693204460
Eau Micellaire Biosensible is a very gentle, non invasive cleansing micellar water with hydrating, soothing and toning properties. It removes makeup and impurities by purifying the skin without destabilizing skin's acid mantle (hydrolipid film). Recommended for red, reactive, rosacea, sensitive or thin skin.
How to use

Pour some Eau Micellaire Biosensible on a cotton pad and clean the entire face, neck and chest. If you have sensitive skin, gently pat the cotton to the skin without rubbing. Repeat until all impurities and makeup is removed.
What's in it

Makeup-removing active ingredients: Derivative of Apple Juice, Herero polysaccharides and peptides derived from plants.
Soothing active ingredients: Extract of Rhamnose, Complex of aminoacids.
Moisturizing active ingredients: Hyaluronic Acid and Rhizobium Complex, Plant-based polysaccharide.
Toning active ingredients: Essential Oil of Peppermint (mentha viridis), Essential Oil of Grapefruit.
Vicki's tip

This gentle micellar water can be used instead of Lotion P50 for skin that reacts and gets irritated easily.