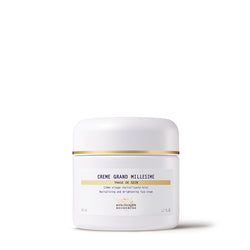 Biologique Recherche
Creme Grand Millesime
SKU: 3700693201711
Biologique Recherche Creme Grand Millesime is a multi-function cream for revitalized and dull skin. It contains our BR Grand Millésime complex to regenerate, witch hazel and cucumber to soothe, hyaluronic acid to moistures and silk extract to soften. This powerful beauty treatment will intensely hydrate your epidermis, and improve your skin's elasticity, leaving your complexion unified, revitalized and glowing.
How to use
After cleansing with Biologique milk and applying P50 and your serum, remove Biologique Recherche Creme Grand Millesime from jar with a spatula to avoid bacterial contamination. After emulsifying creme in your hands, apply in upward smoothing movements, starting at decollete and working up.
Ingredients
Grand Millésime Complex, Cellular Oligopeptide, Tepescohuite Extract, Witch Hazel Extract, Cucumber Extract, Hyaluronic Acid, Silk Extract.
Vicki's Tip
For a more powerful effects, work best when used with Serum Grand Millesime