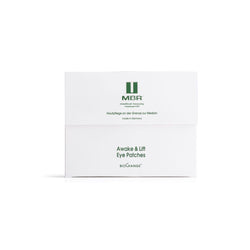 Awake & Lift Eye Patches
$ 182.00
The innovative Awake & Lift Eye Patches, based upon state-of-the-art active ingredients, combined with a high-grade collagen fleece mask, quickly and efficiently correct signs of fatigue and all indications of skin ageing. Your eye area immediately looks smooth, taut and rested.
• Nurtures the demanding eye area by supplying optimum moisture
• Firms the delicate tissue around the eyes
• Decongests the eye area
• Stimulates microcirculation
• Immediately smooths and firms the skin
• The eye area looks toned, refreshed and youthful
Size: 6 pairs.