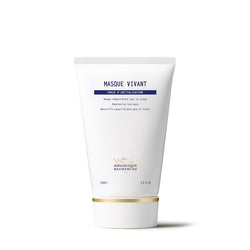 Biologique Recherche
Masque Vivant
SKU: 3700693200783
Mask Vivant helps to purify and balance the skin, shrinks enlarged pores, balances skin's oil production, and revitalizes skin cells. This amazing Yeast Extract Mask is ideal for all skin types. It is highly recommended for acne-prone skin as it helps to clear acne and remove blackheads from the nose and t-zone.
How to use
Apply Masque Vivant right after using Lotion P50. Leave it on for about 20 minutes and gently and thoroughly remove with lukewarm water. 
How often should I use Mask Vivant?
Use Masque Vivant twice a week. For sensitive skin, mix it up with some Masque VIP O2.
Ingredients
Regulating and purifying agent: Yeast Extract.
Soothing agents: Cucumber and Witch Hazel Extracts. 
Moisturizing agent: Lactic Acid.
Vicki's tip
Mix Masque Vivant with a pinch of baking soda for sparkly clean pores. This combination creates a chemistry that thoroughly purifies pores and prepares the skin for the absorption of active ingredients.