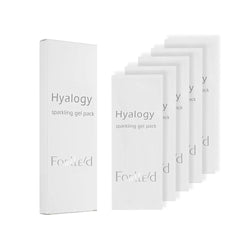 Hyalogy Sparkling gel pack
SKU: 4571348291581
$ 102.00
The mask is designed especially for the residents of the modern city: it enhances cell metabolism, activates microcirculation, improves tissue respiration, promotes detoxification. It has a pronounced instant effect: the skin appears glowing, smooth and fresh.
It contains a complex of royal jelly and glycine of soybeans fermented with Bacillus subtilis enzymes. It works as a postbiotic, stimulating the collagen synthesis and strengthening the native immunity. Improves complexion, aligns the skin tone, astringent effect, stimulates collagen synthesis
10g x 5 masks
ingredients
Methyl perfluoroisobutylene ether, Methyl perfluorobutylene ether, Sodium bicarbonat, Hydrolyzed collagen, Hydrolyzed hyaluronic acid, Hydrolyzed elastin Trehalose, Glucose, Fructose, Bacillus/ royal jelly/ soybean ferment filtrate extract, Hydrolyzed eggshell membrane, Hydrolyzed conchiolin protein, Tocopherol
Silica, Amino acids complex, Hydrolyzed prunus domestica, Dipotassium glycyrrhizate, Alpha arbuti.
How to use
Gently apply the mask to cleansed skin, avoid applying close to the eye contours.Leave on for 5 to 15 minutes. At the end of the exposure, carefully remove the mask from the face with a wet towel.