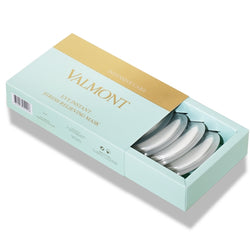 Deto2x Pack Mask
$ 200.00
The benefits of oxygen adapted for cosmetics! DETO2X PACK transforms the skin in just 10 minutes, with a playful and sensorial application. This mask detoxifies and strips the skin of urban pollution, tobacco and other aggressors, before imbuing it with clarifying oxygen. Features are smoothed and skin is tightened. The mask's texture evolves from a generous cream to a crackling active foam that's as fun to apply as it is refreshing. The individual capsules preserve freshness and integrity, and make it easy to take them with you everywhere! This mask is suitable for all skin types, especially those tarnished by an urban lifestyle, grey complexions or tired features. 6 x 0.34 oz. Made in Switzerland.
WHAT IT DOES
DETOXIFIES against external pollutants
DETOXIFIES against the internal toxins
INFUSES oxygen into the skin
STIMULATES cell renewal
WHO IT'S FOR
All skin types. Ideal for the asphyxiated and greyish complexions of city-dwellers or smokers. Particularly recommended if the skin texture is irregular and the pores are too visible.
HOW TO USE IT
When the skin needs air, once or twice a week. Apply the content of the pod over the face and neck in a thick layer avoiding the eye area and nostrils. The texture transforms into an active mousse. When most bubbles have disappeared (approx. 7 to 10 min), massage the product and remove it with water or with a damp tissue to facilitate the operation. The activation of the mousse may cause a slight sensation of tingling and/or moderate redness.