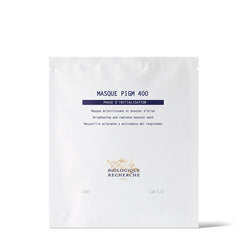 Biologique Recherche
Masque PIGM 400
SKU: 3700693207942
Masque PIGM 400 is a brightening sheet mask formulated specifically for skin with pigmentation and sun damage. Contains highly concentrated brightening active ingredients and antioxidants that help control melanin functions and brown spots. After each use, skin is more luminous and the complexion becomes radiant.
How to use
Open the pouch. Fold the mask out flat and remove the protective film in polyester. Apply to skin, use fingertips to smooth out the mask so that it sticks perfectly and leave on for 20 minutes. Remove and dispose of the mask, then massage the leftover product upwards using circular motions.
Ingredients 
Anti-melanogenesis agents: Dulse Extract, Complex of Pea Extract and Sucrose Dilaurate, Stabilized Vitamin C
Radiance agents: Finger Lime Extract
Anti-dark spot agents: A-Glucan Detox
Vicki's tip
Want to take your pigmentation treatment to the next level? Using the complete line of PIGM 400 products for best and more effective results.