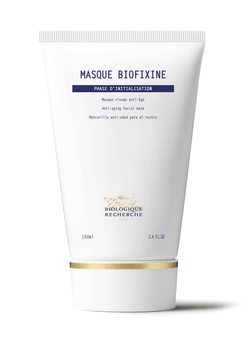 Biologique Recherche
Masque Biofixine
SKU: 3700693209908
Biologique Recherche Masque Biofixine is a creamy mask that provides immediate, relaxing "botox like" effect to the skin. It improves skin's elasticity, helps unify the texture of the skin and prevent visible signs of aging thanks to its antioxidant properties.
How to use
As a mask: Apply a thick layer of Masque Biofixine on a clean skin. Exfoliating prior is recommended for best results. Leave on for around 10 minutes and gently remove excess product with a wet cotton pad.
As a preventive cream: Apply a very thin layer of Masque Biofixine at night as the last step of your night skincare routine - and sleep with it.
Ingredients
Anti-wrinkle and muscle-relaxing agents: Myorelax Peptide, Watercress Extract, Marine Elastin.
Regenerating agents: Walnut Extract, Biologique Recherche Oxygenating Complex.
Antioxidant agents: Grape Seed Oil, Vitamin E, Anise Extract, Rosemary Oil Extract.
Vicki's tip
Mix Masque Creme Biofixine with Masque Visolastine + for mature and dehydrated skin. The results are miraculous!