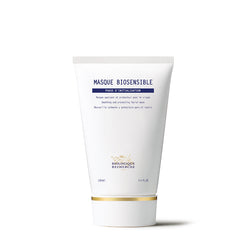 Biologique Recherche
Masque Biosensible
SKU: 3700693208192
Masque Biosensible is a soothing, hydrating and protecting face mask for sensitive skin. Provides immediate relief by strengthening and restoring skin's natural barrier. Biologique Recherche Masque Biosensible is ideal for anyone that has reactive skin, rosacea prone skin and compromised acid mantle.
How to use
Apply a layer of Mask Biosensible onto the face, neck and chest. Leave on for 15 min and then rinse with lukewarm water.
Ingredients
Soothing agents: Soothing hexapeptide, Filmogenic polysaccharide, Milk proteins
Protecting agents: Macadamia Nut oil, Grape Seed oil
Moisturizing agents: Complex made from moisturizing sugars and peptides, Silk extract
Vicki's tip
If you get treatments that compromise the skin, such as lasers and peels, use Masque Biosensible to speed up the healing process.