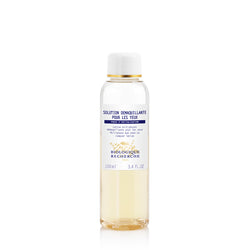 Biologique Recherche
Solution Demaquillante pour les Yeux
SKU: 3700693200172
Solution Démaquillante pour les Yeux is more than just an eye makeup remover. This effective 2-1 treatment removes make-up and soothes the epidermis. Its unique formula combines micellar fluid for its high tolerance, and an oily phase for its efficiency. It's skin friendly even for most sensitive and delicate eye area, leaving it clean and non-greasy. Recommended for all skin types - even the most sensitive one.
How to use
Shake the bottle well before use. Soak a cotton pad with Solution Démaquillante pour les Yeux and gently dab the eye-lids to dissolve the make-up. Allow the lotion to act for a few seconds and then remove eyelash make-up using ascending movements starting from the base of the eyelashes.  Finish removing eye make-up by wiping from the inside corner to the outer edge of the eyelid.
What's in it
Moisturizing and protecting agent: Kiwi Water.
Soothing, calming and well tolerated agents: Kudzu and Licorice Extracts, Cornflower and Witch hazel Water, By-product of Mango Oil.
Vicki's tip

If you are wearing heavy and full coverage makeup, use Solution Démaquillante pour les Yeux to remove the makeup on the face prior to cleansing. It breaks down the oils and minerals of the makeup making it easier to cleanse.