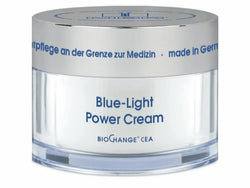 Vicki Morav
Blue-Light Power Cream
SKU: 4038421012452
$ 715.00
An advanced symbiosis between high-tech and nature, this blue-light shielding, anti-oxidant vitamin cream restores the skin's balance, vitality, and radiance.
CEA Blue-Light Power Cream boosts the skin's natural protection system and shields skin cells against blue-light exposure, environmental stress and the damaging effects of UV irradiation and prevents premature cell damage. Niacinamide reduces fine lines and wrinkles, increases skin elasticity, and stimulates dermal microcirculation.
The skin's defense system is restored and the resilience against damaging environmental factors is boosted.
Shields against damages from blue-light
Protects from UV and pollution-induced cell damages
Provides concentrated anti-oxidative vitamins
Restores vitality and energy
Regenerates skin's functional balance
Promotes elasticity and reduces wrinkle depth
Leaves a silky soft feel