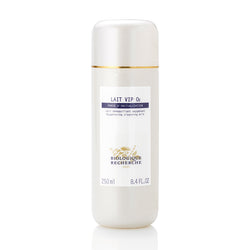 Biologique Recherche
Lait VIP O2
SKU: 3700693200110
Lait VIP O2 cleanser is an anti-pollution milky cleanser and a make-up remover that helps to eliminate  even the smallest pollution particles - which sometimes be smaller than the pores and accumulate on the surface of the skin tissue. After using this oxygenating cleanser skin feels clean, bright, and hydrated.
How to use

Apply Biologique Recherche Lait VIP O2 on dry skin over the entire face, neck and chest. Massage it in for about a minute or so using circular movements. Rinse thoroughly and repeat the same process until you are satisfied with the results.
What's in it

Make-up removing agents: Coconut derived surfactants, Coconut derived esters
Oxygenating agent: BR Proprietary Oxygenating Complex
Anti-pollution agents: Prickly Pear cactus extract, Shea Detox
Vicki's tip
To take your cleansing routine to the next level, use BR Face Massage Glove to massage the Lait VIP O2. Use circular strokes and add water as needed. Skin feels super clean afterwards .