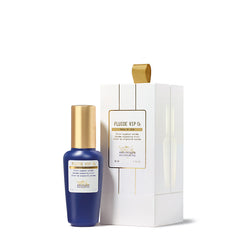 Biologique Recherche
Fluide VIP O2 Finishing Serum
SKU: 3700693202336
Fluide VIP 02 helps stimulate the epidermal functions by increasing the concentration of oxygen on the surface of the skin. Soothes the skin and diminishes red blemishes. Revitalizes and regenerates the epidermis. Hydrates the top layers of the epidermis. Helps prevent the signs of aging in the skin.
Ingredients
Oxygenating and smoothing agent: Specific BR Oxygenating Complex. Revitalizing and regenerating agents: Tepescohuite Extract, Witch Hazel Extract. Moisturizing and anti-oxidant agent: Silk Extract. Soothing and reconditioning agents: Phospholipids.
How to use
Apply a few drops of Fluide VIP O2 to the eye area, and all over the face, neck and cleavage in the morning and/or in the evening. This product is one of the final touches in the Biologique Recherché beauty treatment program.
It can be combined with Masque Vivant, the Quintessential Serums or the Finishing Serums to maximize their effects.
For very dehydrated skins, we strongly recommend combining Fluide VIP O2 with either Sérum Amniotique E. or Sérum Extrait Tissulaire in the first two weeks of the treatment.
Using
Lotion P50
religiously is really essential for ultimate results.