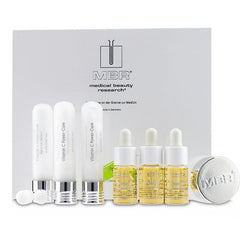 Vitamin C Power Cure
$ 688.00
Intense anti-ageing treatment, containing highly concentrated Vitamin C, restoring the skin's balance, vitality and radiance.
Benefits
Provides concentrated anti-oxidative vitamins
Restores vitality and radiance
Evens out and refines skin tone
Regenerates skin's functional balance
Promotes elasticity and reduces wrinkle depth
Key Ingredients
Vitamin C - Potent antioxidant, supporting the natural regeneration process. Increases the production of collagen and elastin, firming the skin. By inhibiting the melanin production, it releases hyperpigmentation and evens the skin tone.
Gatuline® Expression - Paracress extract, a natural alternative to Botox, reduces muscular micro contractions. Provides a significant reduction of fine lines and wrinkles, allowing for a remarkably refined and smoothed skin structure.
Urea - Key component of the Natural Moisturizing Factor (NMF) of the skin. Improves the water-binding capacity of the skin, allowing it to retain moisture as well as increases cell regeneration.