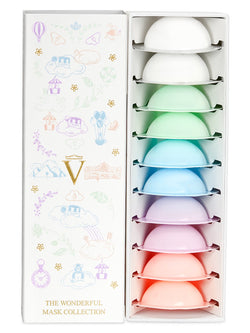 The Wonderful Mask Collection
SKU: 7612017061672
$ 150.00
This Valmont Mask set is inspired by the promise of summer and the pleasure of warm sun-filled days. Make the most of the season with this set of masks specially curated to coddle the skin. Made in Switzerland.
10-PIECE SET INCLUDES
Two Deto2x Packs, each 0.34 oz.
Two Purifying Packs, each 0.17 oz.
Two Moisturizing with a Masks, each 0.17 oz.
Two Prime Renewing Packs, each 0.17 oz.
Two LumiMasks, each 0.17 oz
WHAT IT DOES
Deto2x Pack is a foamy bubble mask that eliminates urban pollution from the skin's surface and enriches skin cells with a boost of oxygen for a fresh-looking complexion. The Purifying Pack is a cleansing and purifying mask that absorbs impurities, mattifies, and improves the skin's texture. Its unique combination of black silt and burdock extract softens and helps regulate sebum production without drying out the skin, leaving the complexion feeling perfectly clean, soft, and refreshed. the Moisturizing with a Mask is a shea butter and Rosa Moschata enriched mask that works wonders to strengthen hydration retention and rebalance the skin lipids, leaving the skin plumped, supple and comfortable. The Prime Renewing Pack is a replenishing cream mask that can be used as a daily balancing mask, a progressive regulating cream, or an occasional express makeover mask. The LumiMask is a velvety, 2-in-1 cream that acts as a face peel and replenishing mask to refine skin texture and give the complexion a baby smooth glow from the first application.