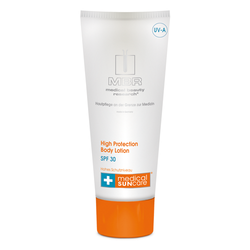 Sunblock High Protection Body Lotion SPF 30
SKU: 4038421018129
$ 205.00
MBR Sunblock High Protection Body Lotion SPF 30
Click here to get MBR Sunblock SPF 50 face
Medical Beauty Research Sunblock SPF 30 High Protection Cream is more than just a sunblock. Besides not leaving white residue on the skin, this innovative multi-action sunscreen provides maximum skin protection while stimulating the production of essential Vitamin D for natural cell regeneration and defense.
Optimal sun protection for an even and healthy tan.

The innovative multi-action sun care creams provide long-lasting, maximum skin protection while activating the natural immune and cell defense system, improving the cell regeneration. A nourishing complex deeply moisturizes, soothes stressed skin and smooths the skin's surface structure. Medical SUNcare creams protect against sunburn and UV ray induced premature skin aging, using efficient high-tech board-spectrum filters. Additionally this advanced sunblock formulation smoothes wrinkles, regenerates the skin and prevents the emergence of further wrinkles as well as pigmentation spots.

The light, non-sticky cream is cleanly dispensed, easily applied and quickly absorbed, leaving a silky soft feel without an undesired sheen. Provides an excellent protection during a day in the sun, outdoor activities or everyday life.