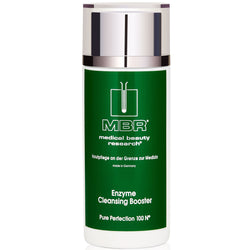 Enzyme Cleansing Booster 2.82 oz
SKU: 4038421014005
$ 270.00
MBR Enzyme Cleansing Booster is a fruit enzyme powder and exfoliant that dissolves impurities, removes dead skin cells and excess sebum, as well as lipids. It can be used to remove makeup as well, as it liquefies all makeup minerals, powders and oils.
How to use MBR Medical Beauty Research Enzyme Cleansing Booster? 
Pour some powder on the palm of your hand and add few drops of water to create a paste and apply onto dry or damp skin. Gently massage it in and add water as needed. For a deep pore cleansing, continue this process for about 3 minutes. Let is sit for a moment before you thoroughly rinse it off. Using a balancing mask after is recommended for best results.