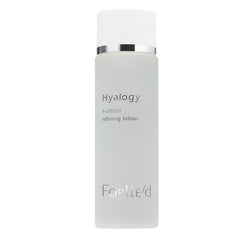 Hyalogy P-effect Refining Lotion
SKU: 4580187421080
$ 94.00
Forlle'd Hyalogy P-effect Refining Lotion
Deep moisturizing lotion

This deep moisturizing lotion is a wonderful source of hydration even for the driest skin. Its unique complex of active molecular ingredients provides a long-lasting hydration of deep skin layers, improves the ability of the skin to resist infection and reduces inflammation.
Regular use of this lotion improves the immune system of the skin; moreover, its active formula stimulates cell regeneration and metabolism that significantly increases the skin permeability.
This lotion works at all the skin layers and induces immediate deep hydration. This lotion is suitable for everyday use and for all the skin types and phototypes at any age.