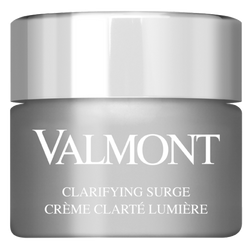 Clarifying Surge
SKU: 7612017056227
$ 260.00
Clarifying Surge
Clarifying Surge offers the skin ingredients that bring out a healthy shine and beautiful glow. Its generous texture is ideal for promoting a clear, even and resplendent complexion during the day or at night.
Hexylresorcinol – A skin illuminator, act directly in the melanocytes to limit melanin production.

Vitamin B3 – inhibits melanosome do stop skin discolouration and reduce the appearance of blotches. Also an anti-aging ingredient Vitamin B3 stimulates the cells and is anti-inflammatory.

Zinc DNA – Soothes and brightens the complexion.
Size: 1.7oz / 50ml