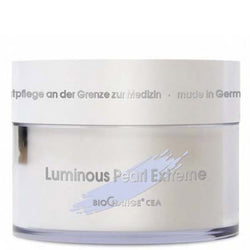 CEA Luminous Pearl Extreme
SKU: 4038421012421
$ 390.00
CEA Luminous Pearl Extreme Cream is an advanced symbiosis between high-tech and nature, this pigmentation balancing, anti-oxidant vitamin cream restores the skin's balance, vitality and radiance.
Provides concentrated anti-oxidative vitamins.
Restores vitality and radiance.
Relieves hyperpigmentation.

Reduces pigmentation irregularities and prevents their formation.

Regenerates skin's functional balance.
Promotes elasticity and reduces wrinkle depth.
Leaves a silky soft feel.
How to use
Mornings and evenings. After cleansing and opening (Two in One Cleanser oder Foam Cleanser purifying/Beta-Enzyme/Starter Facial Booster), apply the recommended active serum. Finally, apply a generous quantity of Luminous Pearl Extreme and gently massage it into your skin.
Ingredients
Hydrolite® 5, Kombuchka™, Vitamin C Glucoside, Shea Butter, Tocopherol Acetate (Vitamin E Acetate), Panthenol (Provitamin B5), MelaCare-Oil, Fomblin, Superox-C, Vitamin A, Grapefruit Extract, Beta-White™, Perilla Extract, Acorus Gramineus Extract, Hyaluronic Acid, Tocopherol (Vitamin E)
Size: 50 ml / 1.7 oz.