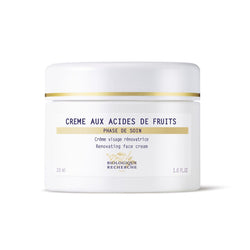 Biologique Recherche
Creme Aux Acides de Fruits
SKU: 37006932098303700693209830
Biologique Recherche Creme aux Acides de Fruits is a 1-month intensive treatment cream, which softens and purifies the skin. Formulated with a Fruit Acid Complex to moistures, and cellular oligopeptide of amniotic fluid to regenerate, this product containing AHA's and Natural Moisturizing Factors, will enhance the regenerating, moisturizing and revitalizing effect on the epidermis. This powerful exfoliating cream is ideal to use as a boost on the skin during times that it feels very devitalized or dull, or it could be used to target scarred tissue and uneven skin. Your skin will feel softened, brighter, hydrated and purified.
How to use
After cleansing with Lait U cleanser and applying P50 and your serum, remove Biologique Recherche Creme Aux Acides de Fruits from jar with a spatula to avoid bacterial contamination. After emulsifying creme in your hands, apply in upward smoothing movements, starting at decollete and working up.
Ingredients
Biologique Recherche Creme Aux Acides de Fruits Active ingredients include: apple extract, ginger extract, lemon extract, pineapple extract, collagen and lactic acid.
Vicki's Tip
I have a special connection with Fruit Acids. Use at night though.