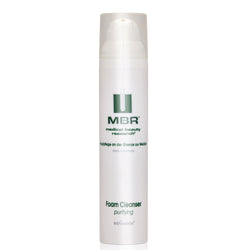 Foam Cleanser Purifying 3.4 oz
SKU: 4038421011042
$ 99.00
MBR Foam Cleanser Purifying
Gently prickling cleansing foam for thorough deep cleansing of the skin. A combination of amino acids and provitamin B5 supports the formation of new cells and consequently the structure of the tissue.
• Gently prickling foam structure
• Intensive cleansing
• Imparts a pleasant fresh sensation
• Supports active regeneration of cells
• Refines the surface structure
Directions
Mornings and evenings. Briskly apply the Foam Cleanser to moist skin taking care that it is not too thick, and distribute using circular movements. Cleansing starts immediately by means of foaming and a prickling sensation. Allow the foam to take effect for a few minutes and then rinse with lukewarm water.
Ingredients
Foam complex with skin conditioner, inositol, Pentavitin®