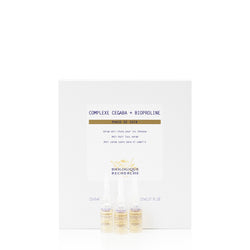 Biologique Recherche
Complexe Cegaba + Bioproline Hair Treatment
SKU: 3700693206884
Biologique Recherche Complexe Cegaba + Bioproline Hair Treatment is an anti-age tonic which increases hair density and makes hair quality healthy and strong.

Product description : this extensive hair care treatment is specifically blended to optimize the fortifying and revitalizing action at the root of the hair.

Direction for use : apply about 5 ml of the serum to the whole head. Massage gently in circular movements. Do not rinse off. Use once a day for a 1 to 3 month period, or occasionally after Shampooing Traitant VIP O2.